One of GEI's longest-standing projects
MARKHAM, ON (April 21, 2022) – GEI Canada is celebrating a rare project milestone. After almost 15 years of environmental assessment, Natural Heritage System (NHS) design, construction, and monitoring at Mount Pleasant Sub-Area 51-1 in Brampton, GEI and the project team are passing the torch to Credit Valley Conservation Authority (CVC) to continue long-term monitoring studies. The 528-hectare community of Mount Pleasant Sub-Area 51-1 provides homes to several thousands of residents. The NHS forms a "green spine" that is a central, organizing element in this new, transit-friendly community. At 90 hectares, it is one of the largest urban Natural Heritage Systems in Ontario.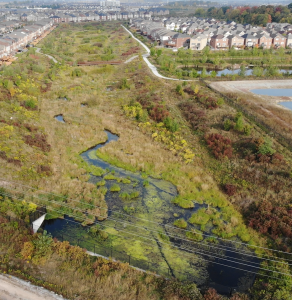 "It's not every day that you can celebrate completing a project of this duration, this complexity, and this importance," says Melanie Randolph, Senior Environmental Specialist at GEI. "Above all, this is a celebration of collaboration – between stakeholders, consultants, regulatory agencies – and across GEI as well."
"Mount Pleasant Sub-Area 51-1 and its NHS is a creation of collaboration," says Mark Heaton, a wildlife biologist at the Ministry of Natural Resources and Forestry (MNRF) (now retired.) "Prior to 2012, the east branch of Huttonville Creek was a straightened agricultural ditch with fragmented forests and little to offer fish or wildlife. Now, after multiple years of construction and monitoring, life abounds with new wetland and stream habitats connected to a series of existing forests. The environmental excellence seen today is the result of the collaborative efforts of the landowners' group, consultants, CVC, MNRF (now NDMNRF) and the City of Brampton."
Collaboration started onsite in 2007 with the environmental characterization and impact assessment process and continued through monitoring of the completed NHS. During the NHS construction period, the GEI team took regular site walks with agency staff to review progress and to identify issues that arose. This allowed the consultant teams to implement best management practices with a solutions-based focus. Working with CVC, the MNRF and the City during NHS monitoring was instrumental in confirming the monitoring requirements, station locations, and frequency of monitoring.
The post-construction (performance) monitoring program spanned five years and included terrestrial, groundwater, storm water management, surface water, hydrogeological, and aquatic components.
"The monitoring program was comprehensive and well executed and the knowledge gained will be integral for informing lessons learned and the raw data will have many related internal applications," says Jon Nodwell of the Credit Valley Conservation Authority.
"Congratulations to the entire project team," says Melanie. "We look forward to continued knowledge sharing for the creation of urban NHS' through CVC's ongoing long-term monitoring studies."
Quick Facts: The NHS contains a contiguous > 5km riparian and upland corridor that provides direct habitat for a range of aquatic and terrestrial life including the federally and provincially endangered Redside Dace. Overall natural vegetation coverage increased by 75%. There was a 54% increase in wetland habitat and the restored and created wetlands within the NHS have designated by the Ministry Northern Development, Mines, Natural Resources and Forestry (NDMNRF) as Provincially Significant.
Project Awards
International Making Cities Livable Award 2013.
Brampton Urban Design Award 2012, Best Overall Project, Mount Pleasant Village New Neighbourhood, Brampton.
Brampton Urban Design Award 2012, Award of Merit, Healthy and Sustainable Development, Mount Pleasant Village, Brampton.
###
About GEI: GEI is employee-owned and among North America's foremost consulting engineering and environmental firms. In our 50-year history, GEI has delivered more than 50,000 infrastructure and environmental projects around the globe. With more than 1,000 staff and 44 offices in North America, GEI is a leader in providing multi-disciplined engineering and environmental services to a range of private and public sector clients, both domestically and abroad.
GEI's Canadian team includes more than 100 engineering and environmental professionals who leverage our local presence and extensive knowledge to offer unparalleled expertise in complex, multi-disciplinary projects. Our role is both strategic and practical and we focus on tangible, community-driven results. We proactively address the real challenges driving project objectives and identify the unique opportunities each project presents to our clients, communities, and environment. We work diligently and respectfully to build the trust and mutual understanding necessary to work collaboratively with multiple stakeholders and our approach to project success embraces open, objective, and timely communication.
For more information on GEI Canada, please visit – https://canada.geiconsultants.com/
Media Contact:
Rachel Sa
Director of Communications
GEI Consultants
(647) 988-9300
rsa@geiconsultants.com