Merger furthers GEI's strategic plan to expand services and geographic reach in Canada
Toronto, ON (May 8, 2023) – GEI is pleased to announce that GM BluePlan, an Ontario-based engineering, management, and technology consulting company, has joined GEI. GM BluePlan provides full life cycle engineering services, and their experts work with their clients through each stage of infrastructure planning, asset management, design, construction, and operations and maintenance management.
"The combination of GM BluePlan with GEI Canada creates one of Ontario's leading employee-owned firms," says Peter Ventin, GEI's Regional Leader in Canada. "The added geographic breadth and complementary services, combined with GM BluePlan's nationally recognized expertise in asset management and infrastructure planning, further GEI's growth and expansion in Canada."
"Our leadership team were very excited to find a partner with the same values, same approach to client service, depth of resources, and the right combination of services to help us grow our team and provide a broader service offering," says Chris Hamel, President of GM BluePlan.
With GM BluePlan and GEI Canada combining forces, there are now nearly 400 team members in the province of Ontario.
"While GM BluePlan expands our service offerings and broadens our geographic reach, it is also a great cultural fit with GEI," says Ron Palmieri, GEI's President and CEO. "We have shared values, a dedication to adding exceptional value and excellent client service, and a dynamic seller-doer model. Together, we are a premier destination for top talent in the province."
This merger continues GEI's strategic plan to expand and grow services and clients in the Canadian marketplace, which began with the opening of GEI's Toronto office in 2018.  The merger also addresses GM BluePlan's strategic goals to build the full suite of services in-house to establish a single destination for municipal and environmental engineering. Together, there are 11 offices across Ontario.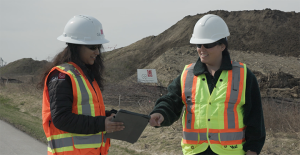 ###
ABOUT GEI
GEI Consultants, Inc. is a consulting engineering firm that delivers professional services that improve our world's built environment. With more than 1,000 staff and 47 offices in North America, GEI is a leader in providing multi-disciplined engineering and environmental services to a range of private and public sector clients, both domestically and abroad.
As a member of the employee-owned GISI family of companies, we foster personal relationships with our clients and support our staff in a partnership model, which is underpinned by continuous learning and sharing of knowledge. We retain proven, recognized experts and attract the best minds to deliver to our clients a refreshing blend of technical expertise, collaborative spirit, and innovation that is rare in our profession. We engineer solutions in five primary end markets: Water Resources, Energy, Buildings, Infrastructure, and Industrial. For more information on GEI, please visit www.geiconsultants.com.
ABOUT GM BLUEPLAN
GM BluePlan Engineering Limited is a dynamic engineering, management, and technology consulting company that provides full service and full asset life cycle offerings to our clients across Canada. With over 50 years of experience, we provide expert guidance to plan, design, implement, and support our clients' infrastructure. Our exceptional team includes over 240 professionals in seven offices across Southwestern Ontario, located in Guelph, Owen Sound, Listowel, Kitchener, London, Hamilton, and Vaughan. Our reach of projects extends from Metro Vancouver to Halifax, with a significant focus in Ontario and select international clients.